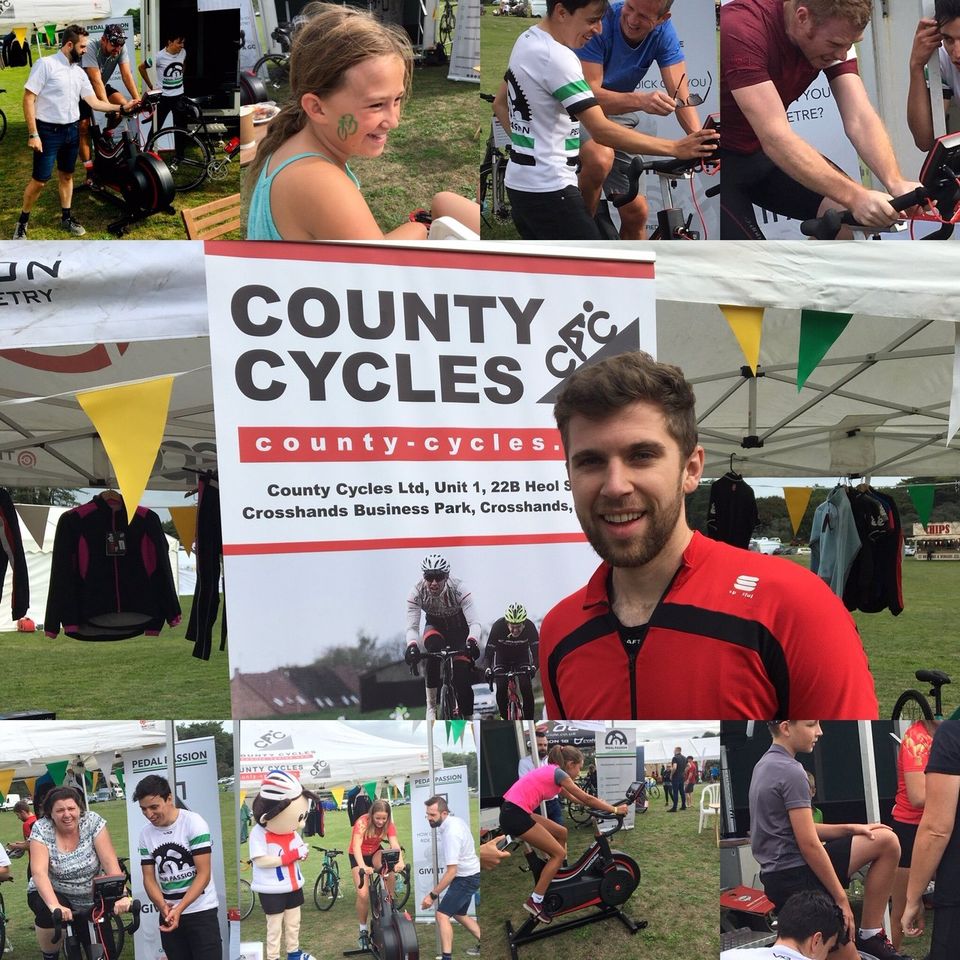 As 2018 draws to a close its great to look back and reflect on what we have achieved as a business – for us, County Cycles is far more than a daily job, we have the privilege to meet and work with some amazing people who are more than just customers and have become our friends.
The year started off with horrendous weather conditions which thankfully was not the case for our first event – we were proud to support the Dambusters – it was a glorious day and everyone thoroughly enjoyed the cycling, scenery and the fly by – thanks to the Douglas Bader foundation they were able to provide another brilliant spectacle for the cyclists to observe over Llyn Brianne Dam.
Our Double Devil event was held from County Cycles this year – a first for Bean on a Bike to provide the post ride meal and ensure that all the food stops were well stocked up with home made delights – who said its not all about the food? Feedback was fantastic and we are looking forward to 2019 to see who is going to tackle the Devil's staircase and Devils elbow.
Our next event was the Merlin Ride – in its 11th year still a great turnout with many familiar faces – one gentleman has attended every one!Again starting from County Cycles with Bean on a Bike catering again, we had the addition of Alfies Beer bus and the Prosecco van outside for anyone who wanted a post ride tipple.
First year this year for the Grimpeur Hill Climb challenge – a series of 4 hill climbs with each one timed over a 4 month period, followed by our annual Sockathon, always a fun event to attend with a prize for the funkiest socks.
One of the highlights for us this year was to be asked to attend at the start of the Tour of Britain in Pembrey Country Park – fantastic weekend filled with cycling events, Watt bike challenges and more – the chance to be at the centre of the start of the TOB was such a great experience. Prior to the Tour we worked with Pedal Passion who put on an ETAPE which replicated the first stage of the TOB and it was a privilege to be part of such a well organised and challenging event. Pedal Passion have been working closely with us by holding turbo training sessions at the shop each week – always professional and give great advice for anyone who wants to improve their on the bike fitness for pleasure or event training.
Bike shops have historically been seen as male orientated, but with the help of Breeze Carmarthenshire and their leaders, they have nominated us as their 'Hub' where you can join a ride, socialise and generally have a good time with like minded ladies- a great group for beginners of all ages and fitness levels, you can guarantee you will not ride alone and have great support from their leaders when you go out on one of their rides. Their Halloween ride started and ended here and the outfits and atmosphere was fantastic – the pumpkin soup was flowing. Crosshands has a new cycling Hub page on facebook – check it out to see what rides are going on in the area.
From a product perspective we took on 2 new brands this year – Orro and Argon, held a Bianchi demo day, launch of the new Trek Electric bikes, Attended Pembrey's cyclocross event on behalf of Frog with a range of demo bikes for children – pretty eventful and rewarding weekend.
The coffee shop has also branched out to providing buffet food externally for events, held a Vegan Cookery evening, and this extended to having a County Cycles Velovegan Expo – 25 mile bike ride, Yoga for cyclists and a vegan buffet to finish off with the offer of a free Health check on site.

We approach 2019 with a whole new list of events to run alongside our existing ones – the first being the Velo Dewi Sant in March followed by Leg-it tour to recovery in May, the Double Devil also in May, Leg-it Trans Wales in June, Merlin Ride in August and no doubt many others slotted into the calendar – for further information on any of these events click on the event tab on our website.

2018 has been the most diverse of years in terms of the variety of events, products and services we have offered and the success of our business is all down to YOU!!
So to all our customers, old and new we would like to wish you a very Merry Christmas and Happy New Year and thank you for your continued support.